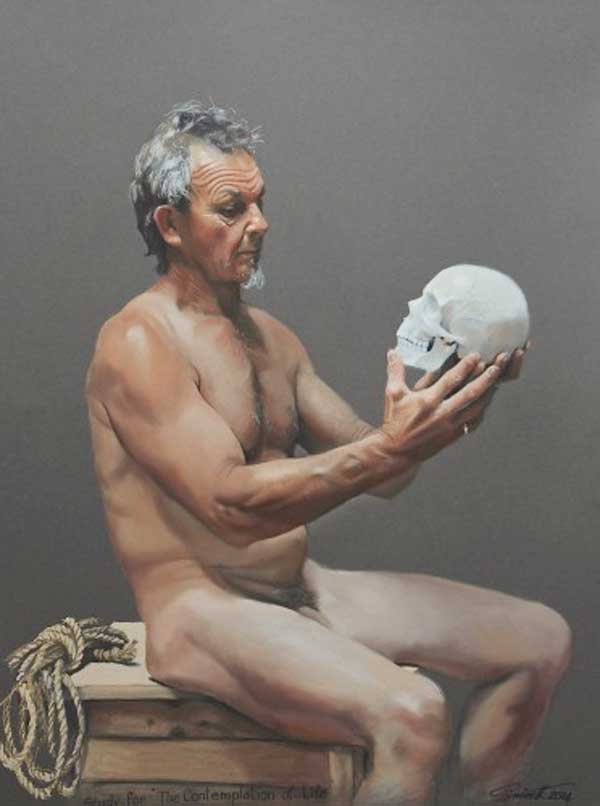 My drawing titled "Study for 'The Contemplation of Life" has been selected for the 2014 Adelaide Perry Prize for Drawing which will be on exhibition at The Croydon Centre for the Arts at PLC Croydon until March 31.
45 works from over 400 entries Australia-wide were selected by the Judge , the well known ex-director of the AGNSW and 'Art of Australia' TV Series Presenter, Edmund Capon AO, OBE.
This pastel is one of a number of studies done in preparation for a larger oil painting titled "The Contemplation of Life". The skull represents the ephemeral nature of life and the inescapable fact that we all die. The rope has long been a symbol of the bonds of life such as family ties, friendships and work but also a symbol of bondage & servitude and also capital punishment & suicide.
The completed painting will show more pelvic anatomy to represent the other subject which occupies a major part of our contemplative lives.
A cross, a crescent or a Star of David or Menorah to suggest a religious/spiritual aspect in our lives will also be added.
The model for this drawing was Tony McWilliam a local Landscape Gardener and Stone Sculptor and part-time model at life drawing sessions. He is an excellent model, statuesque at 2 metres tall with rugged looks and a furrowed brow reminiscent of a Caravaggio or Velazquez painting.