Peter Smeeth MBBS FRAS AWI
Born 1949 in Griffith, NSW, Australia and following schooling at Yanco Agricultural High School, Peter studied Medicine at the University of Sydney from 1966 to 1971 and after working at Royal North Shore Hospital and Canberra Hospital spent 34 years as a family doctor in General Practice at The Entrance on the Central Coast of NSW.
He changed to full-time art practice in 2008 and works as a professional portrait artist in Sydney and the Central Coast.
He has drawn and painted since early childhood and always regarded his art practice as a search for excellence that continues to this day. He has a special interest in the human condition which is manifest in his portraits and figurative works but he enjoys all forms of art from the totally abstract to the super real. He works in most media …pencil, pastel, charcoal, watercolour, oil, acrylic and does sculptural work in plaster or bronze.
In his realist paintings he aims to paint light and space making the flat canvas appear three dimensional. He strives to make his portraits life-like and alive so that the viewer feels the subject is actually present and he likes to see friends and relatives of the subject talking to the portrait.
Peter is an exhibiting:
Fellow of the Royal Art Society of NSW
Member of the Australian Watercolour Institute
Member of Portrait Artists Australia
Signature Member of the Portrait Society of America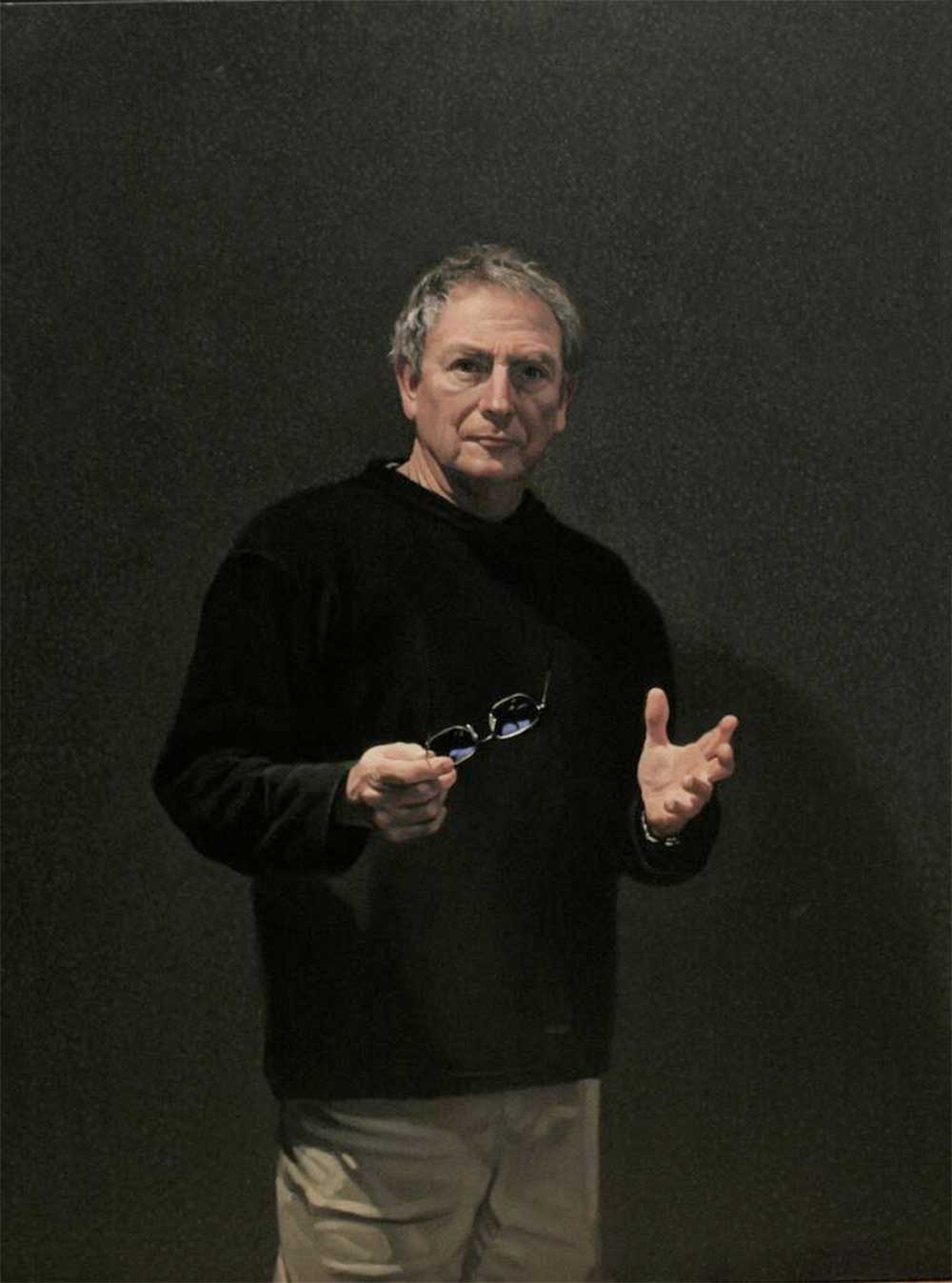 Finalists Awards/Group Exhibitions
2019 Gallipoli Prize
2018 Gallipoli Art Prize
2018 Kilgour Prize
2018 Doug Moran National Portrait Prize
2018 Shirley Hannan National Portrait Award
2018 Portrait Society of America Members Only Competition Finalist x2
2017 Gallipoli Art Prize
2017 Archibald Prize  (Lisa Wilkinson AM) – Archibald Packing Room Prize Winner
2017 Portrait Society of America Members Only Competition Finalist x3
2016 Gallipoli Art Prize
2016 Archibald Salon des Refusés  (You're Still Hot to Me – A Portrait of Jean Kittson)
2016 Black Swan Prize for Portraiture
2015 Gallipoli Art Prize
2015 Black Swan Prize for Portraiture (The Stone Sculptor- A Portrait of Tony McWilliam)
2015 Kilgour Prize  (Sweet Transvestite – Craig McLachlan as Frank N Furter)
2015 Doug Moran National Portrait Prize Semifinalist x3
2015 Solo Retrospective, Gosford Regional Gallery
2014 Adelaide Perry Prize for Drawing
2014 Benalla Nude Art Priz
2014 Gallipoli Art Prize
2014 PAA Exhibition Australia Embassy Washington DC
2014 Shirley Hannan National Portrait Award
2014 Doug Moran National Portrait Prize Semifinalist x2
2013 Adelaide Perry Prize for Drawing
2013 Archibald Salon des Refusés (The Fine Food Judge – A Portrait of Simon Marnie)
2013 Gallipoli Art Prize
2013 Inglis Equine Art Prize
2013 Mortimore Prize
2012 Archibald Salon des Refusés (Richard Glover)
2012 Gallipoli Art Prize
2012 Shirley Hannan National Portrait Award (Veronica with Annabelle & Caelan)
2012 Inglis Equine Art Prize
2012 Black Swan Prize for Portraiture ( Phillip Adams)
2012 Mortimore Prize Still Life & Figurative
2011 PAA Exhibition in NSW Parliament House
2011 Gallipoli Art Prize
2011 Sulman Prize at AGNSW Winner of Sulman Prize
2011 Inglis Equine Art Prize
2011 Royal Art Society Exhibition NSW Parliament House
2010 Archibald Prize (Peter FitzSimons, author)
2010 Shirley Hannan National Portrait Award (Alexandra 2010) Winner of the Mailroom Prize and People's Choice Award
2010 Black Swan Prize for Portraiture (Yvonne Kenny at Covent Garden)
2010 Blake Prize Director's Cut
2010 Eutick Memorial Still Life Award
2010 Mortimore Prize (Still Life & Portrait) Unpacker's Prize & Winner of Mortimore Prize (Best in Show)
2009 Adelaide Perry Prize for Drawing (Crysalis II – Caelan)
2009 Doug Moran National Portrait Prize (My son Tristan)
2009 Central Coast Festival of Arts (Traditional Prize & People's Choice Winner)
2009 Black Swan Prize for Portraiture (David Handley of Sculpture by the Sea)
2009 Mortimore Prize (Still Life & Portrait – Still Life Winner)
2009 Blake Prize for Religious Art – Director's Cut
2009 Eutick Memorial Still Life Award
2008 Central Coast Festival of Arts (Woman with Cream Towel) People's Choice Winner
2008 Archibald Salon des Refuses (Phillip Adams – The Rematch) Holding-Redlich People's Choice Winner
2008 Shirley Hannan National Portrait Award (Study for Cleopatra – a Portrait of Nafisa Naomi)
2008 Blake Prize (The contemplation of a Secular Man)
2008 Berkelouw Self Portrait Prize
2008 Mortimore Prize (Portrait and Landscape)
2008 Kilgour Prize
2007 Featured Artist Central Coast Festival of Arts
2007 Archibald Prize (The Young Diva – a portrait of Amelia Farrugia)
2007 Shirley Hannan National Portrait Award (Karina Lee)  People's Choice Winner
2007 Lexus-Mortimore Prize
2006 Archibald Prize (Clover Moore with Sheba & Bruno)
2006 Central Coast Festival of Arts (Traditional Prize Winner)
2006 Art on The Rocks Exhibition (People's Choice Winner)
2006 Shirley Hannan National Portrait Award (Self Portrait)
2006 Lexus-Mortimore Prize
2005 Art on The Rocks Exhibition
2005 Macquarie Portrait Artist Australia Exhibition to Washington DC
2005 Gosford Art Prize (People's Choice Winner)
2004 Archibald Salon des Refuses (Dr Graham)
2004 Doug Moran National Portrait Prize ("Alexandra")
2002 Doug Moran National Portrait Prize (Tom Picot)